Drinking shade-grown coffee is one of the seven simple actions you can take to save the songbirds.
Most coffee beans are grown in the sun, in which deforestation occurred to make way for coffee fields. Many birds, including familiar migratory birds like orioles and warblers, depend on rainforest habitat in their non-breeding grounds in Central and South America. Bird- friendly coffee is grown on farms with forest-like tree canopies.
According to the Smithsonian's National Zoo & Conservation Biology Institute, shade-grown coffee farms outshine sun-grown coffee farms, with increased numbers and species of birds, improved bird habitat, soil protection/erosion control, carbon sequestration, natural pest control and improved pollination. Bird-friendly coffee is also more delicious! We sell Songbird Coffee at Wild Birds Unlimited of Woodhaven and we drink it every day! You can purchase it by clicking on the "Shop Online" button above or by stopping in the store.
Look for the Smithsonian certification seal on bird-friendly coffee like Thanksgiving Songbird Coffee.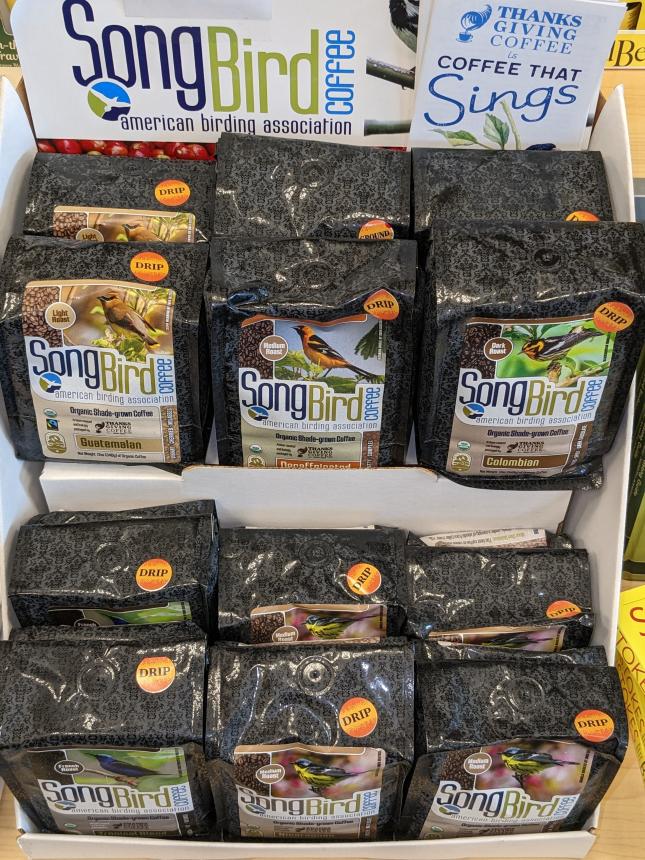 https://nationalzoo.si.edu/migratory-birds/about-bird-friendly-coffee
DAILY SAVINGS CLUB MEMBERS, our Winter SuperBlend bags are out of stock so we are substituting 10 and 20 lb. bags of No-Mess seed. Now through January 31st, buy a 10 or 20 lb. bag of No-Mess seed blend and receive a FREE Winter SuperBlend Seed Cylinder. Limit: One free cylinder per purchase, through January 31st or while supplies last.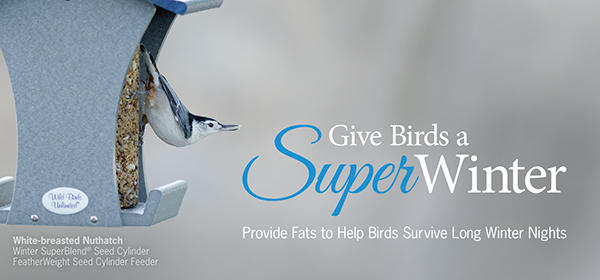 Offer Winter SuperBlend to Attract a Variety of Birds
Winter is a wonderful time to feed the birds. Not only is it a chance to help the birds get the necessary fats for surviving longer nights and colder temperatures, but it's also a good time to see a variety of birds visiting your feeders. Our Winter SuperBlend®️ is a high-fat seed blend, specifically formulated to provide birds the essential energy and fats needed to survive whatever winter throws at them.
Buy a Bag of Winter SuperBlend; get a FREE Winter SuperBlend Seed Cylinder* ($15.99 value)
*For DSC members only. Valid only at participating store(s) listed. One Free Winter SuperBlend Cylinder 1.75 lbs. (28 oz.) with Winter SuperBlend Bag purchase. Offer not valid on previous purchases or sale items. Offer valid in-store only.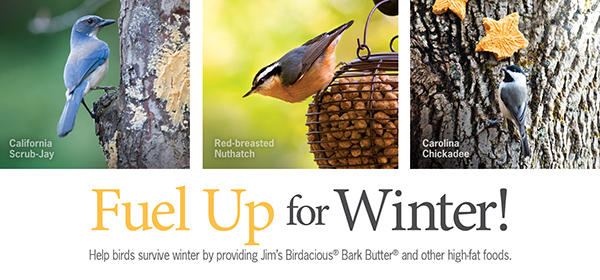 Extra Fat is Critical for Birds' Winter Survival
This time of year, it's not unusual to make a resolution to trim the fat from our daily diets. But it's different for birds. Fat is fuel and stored body fat is a bird's primary energy supply that helps them survive winter. Even in areas lacking bitter temperatures, they need extra fat to endure the long period of darkness during winter nights.
You can help by providing high-fat foods like Jim's Birdacious®️ Bark Butter®️, Bark Butter Bits and Bugs & Bits®. Shop now and save on all Bark Butter products - they're perfect for providing your birds with much-needed nutrients.
It's All About ... Winter Survival!
Winter weather may be unpredictable, but regardless of the temperature or snowfall, birds are challenged by the shorter days and longer nights. Longer roosting periods of 13 - 15 hours mean less daylight hours in which to find food. A bird must sustain itself on its fat supply, which is why we can help them by offering high-fat foods.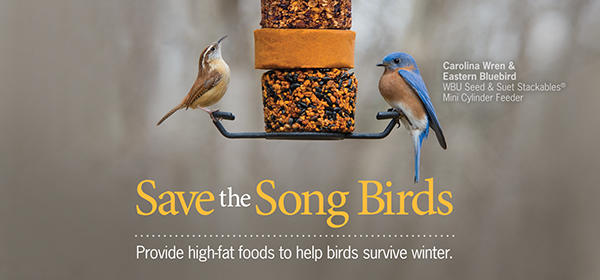 Helping to Tame Winter for Your Birds
A high fat diet…the medical books say it's just not good for us.
Well, it's a good thing that birds can't read! Because a diet high in fat is an absolute necessity for many of them to be able to survive the rigors of winter.
For birds, fat is fuel. It is the most concentrated energy source that a bird can consume and it is the only dietary component that is absorbed completely intact by their body. Stored body fat is the primary energy supply that fuels a bird throughout the winter.
Keeping warm is costly. A bird expends about 60% of its energy generating body heat. To stay warm, songbirds may use up 75-80% of their fat reserves during a single winter's night. That's equivalent to shedding, and then replacing 10% of their weight in the form of body fat, every twenty-four hours.
Even in areas lacking bitter temperatures, the most overlooked winter survival challenge for birds is having to endure the long period of darkness during the night. While roosting, a small songbird needs to sustain itself for 13-15 hours, solely by using its fat reserves for fuel.
For these birds, the daily challenge is to find enough food to not only make it through each day, but to also replace their fat reserves for the coming night -- all in the course of limited daylight hours.
So, this is where you come in.
Have you noticed how ravenously the birds eat at your bird feeders during the winter, especially first thing in the morning and just before dusk? Your birds are probably taking full advantage of the high-fat foods you are offering to quickly replenish their much needed fat reserves.
High fat foods are a critical necessity that you can provide your birds to help them survive the challenges of winter. By providing a reliable source of these foods, such as all types of suet, Winter SuperBlend® SuperSuet® and Bark Butter® products, you can truly make winter a little tamer for your backyard birds.
---